THOMAS & TALBOT In the News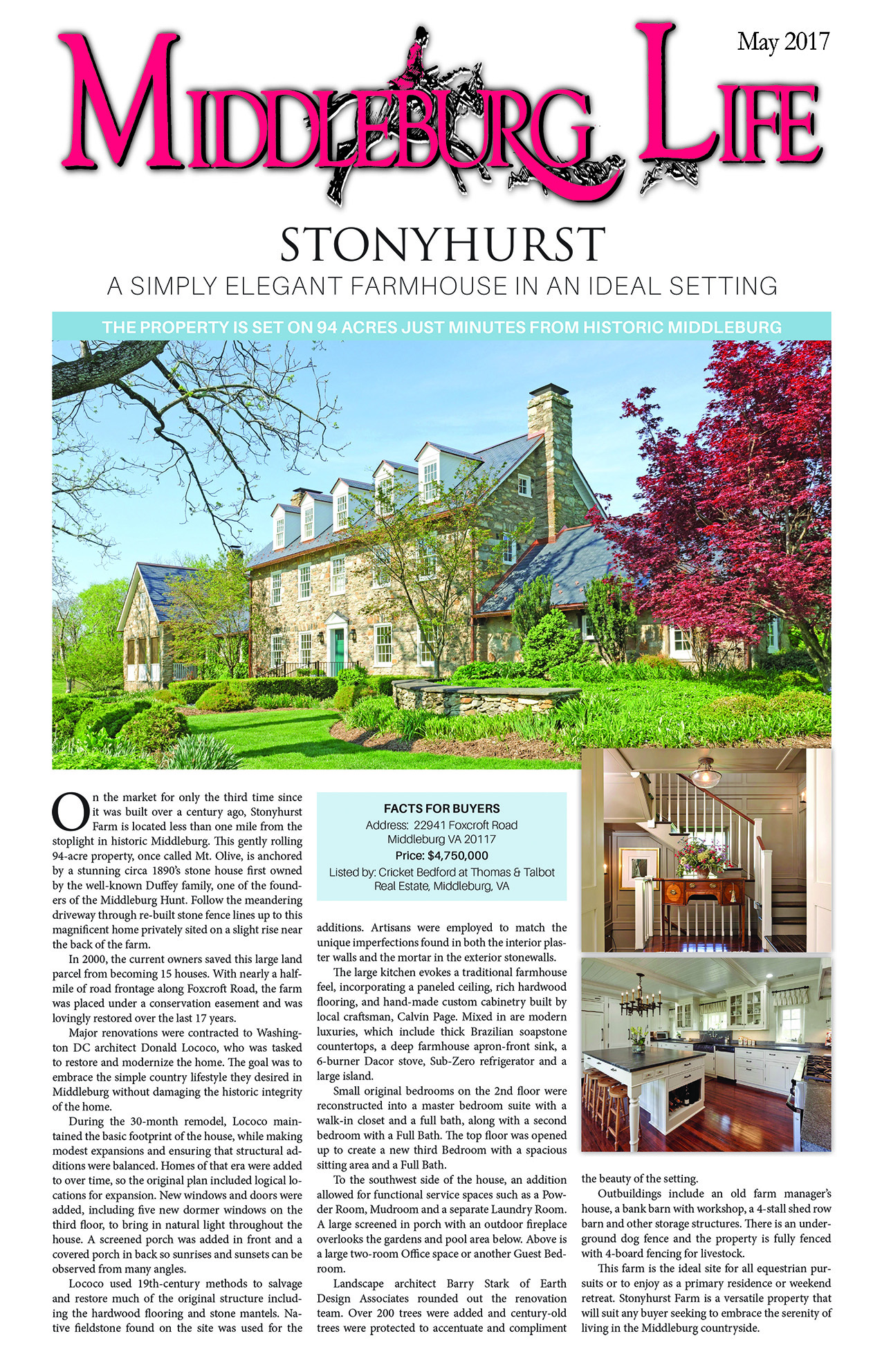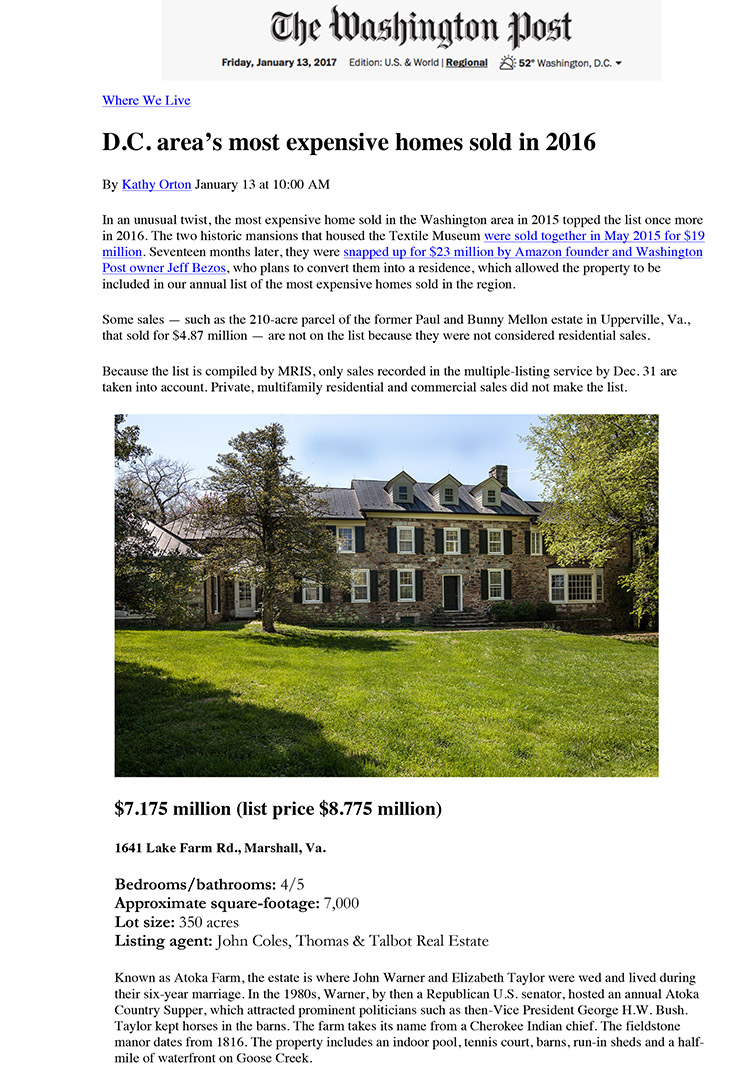 Middleburg Eccentric • October 25, 2012 - November 25, 2012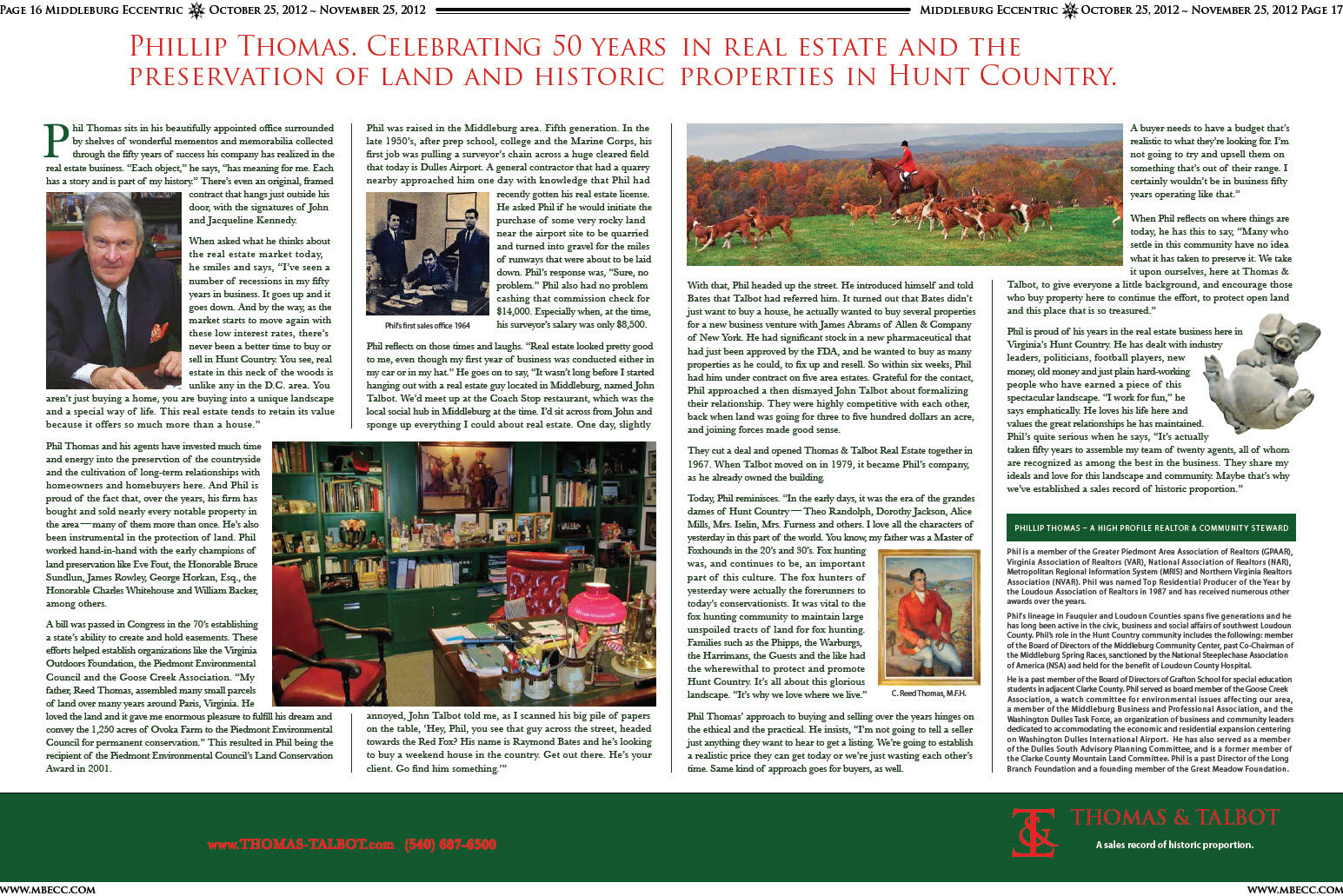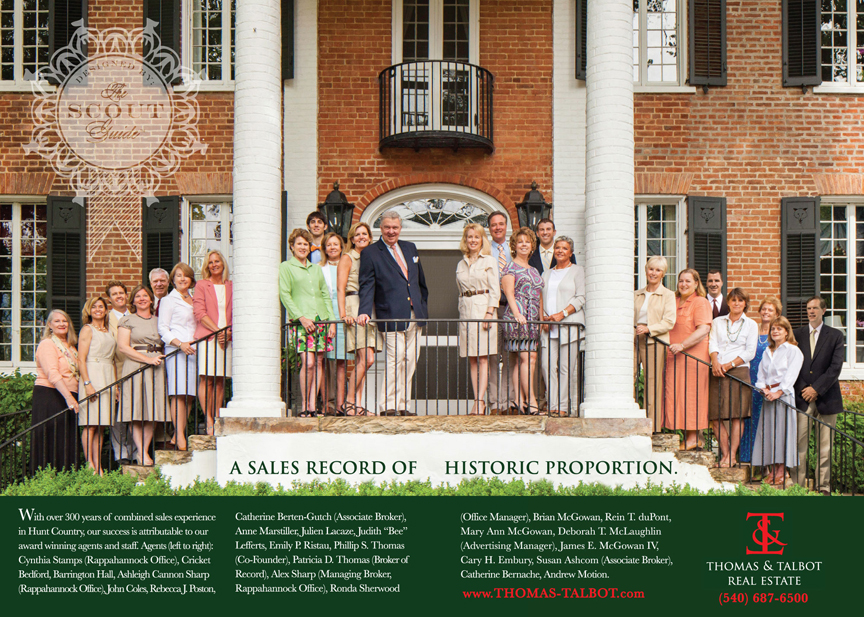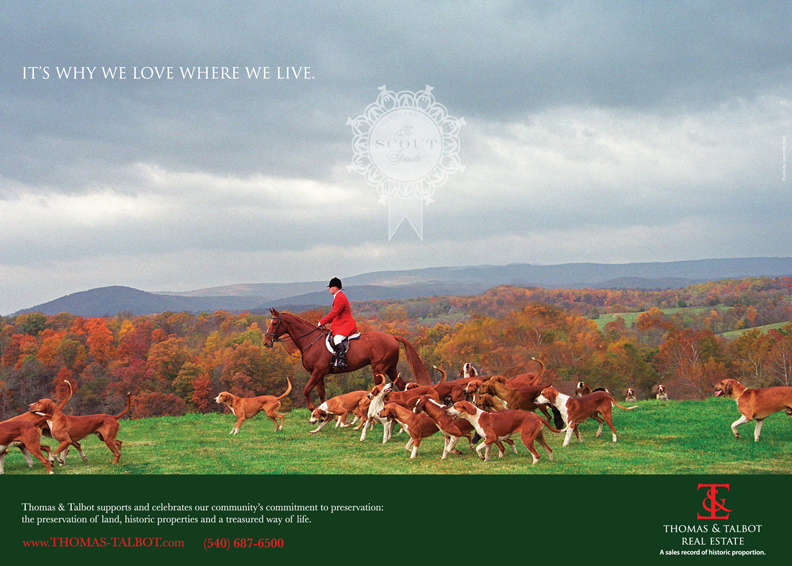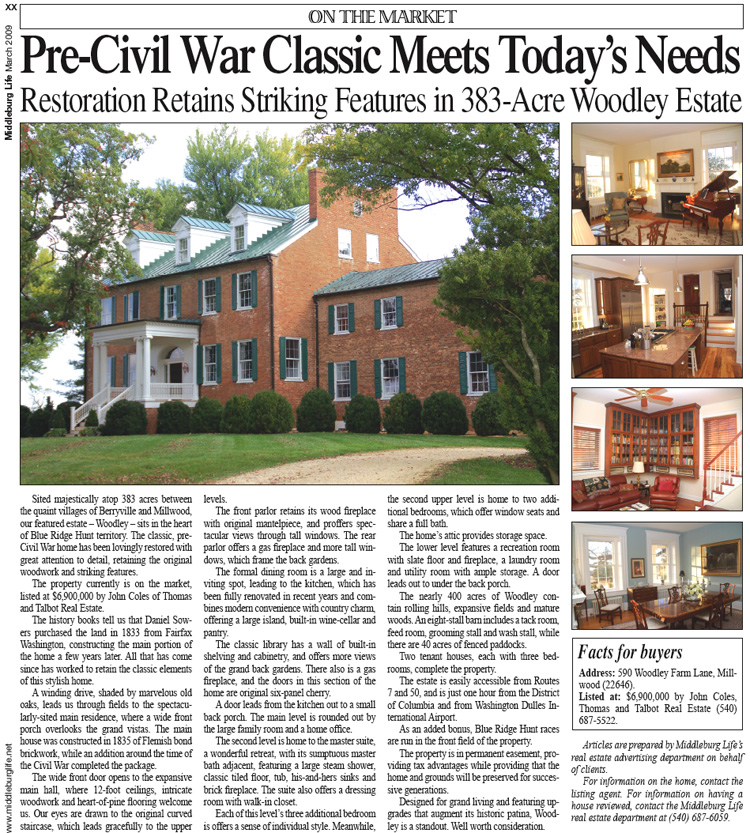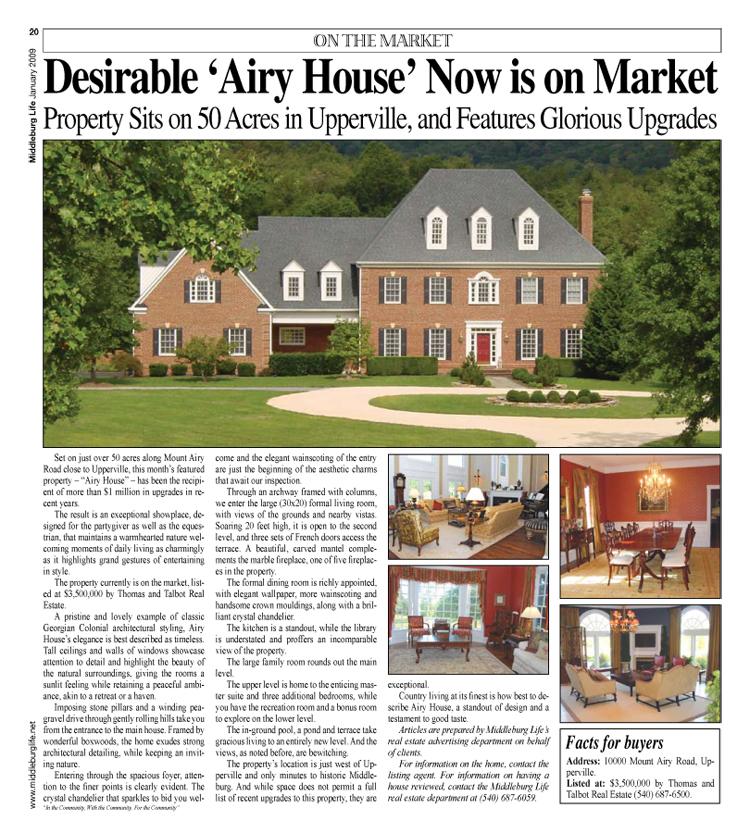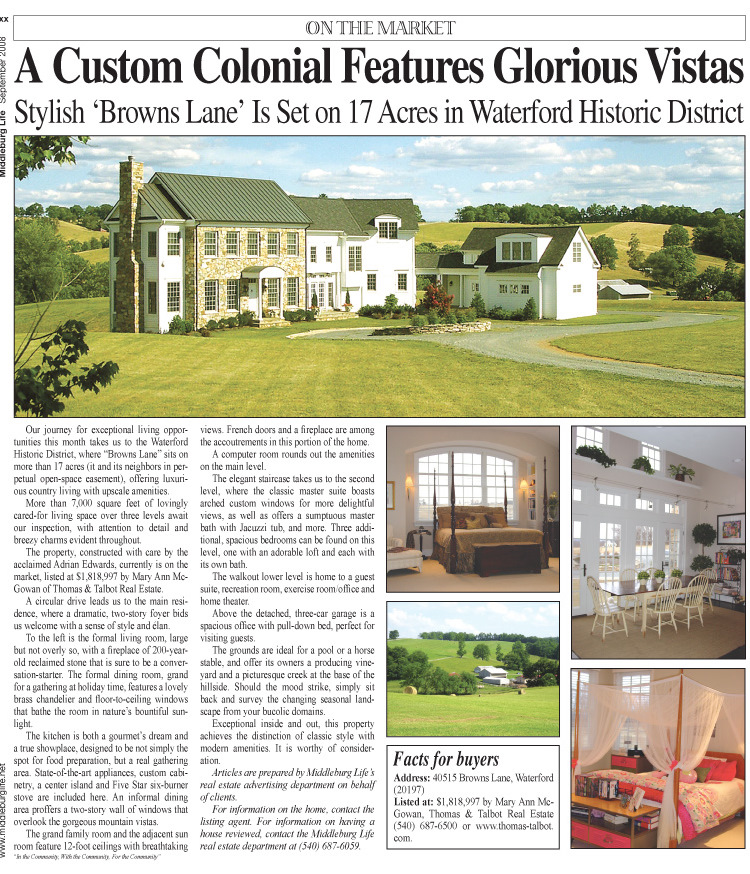 Phillip Thomas Brings a Long-Term Perspective to Real Estate
By KRISTEN ARMSTRONG
Staff Writer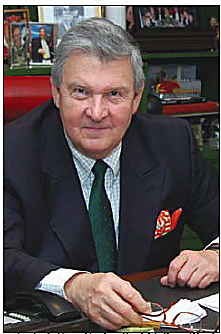 Phillip S. Thomas, Middleburg, VA. -- Land Conservation Award
In December 2000, Mr. Phillip S. Thomas conveyed 1250 acres of the Ovoka Farm to the Piedmont Environmental Council to provide for permanent conservation of one of the most spectacular viewsheds in Virginia. His goal was to fulfill the hopes of his father, Reed Thomas, who assembled many smaller parcels over many years, that the land surrounding the village of Paris and anchoring Ashby Gap and the Paris Valley, would be forever part of the rural countryside. The bargain sale transaction included a gift of over $4 million in value, a gift that benefits all citizens and visitors to this special place.
Many people might think that all the grand estates in Virginia's horse country resemble something out of Gone With the Wind, and they wouldn't be far wrong. With their verandahs and Doric columns, most of these homes, regardless of when they were built, look appropriately antebellum.
Most--but not all. This recently built Tuscan-style villa on 60 acres near Middleburg stands out like a bottle of Barolo at a bourbon tasting. But it's in good company. Thomas Jefferson incorporated many Italianate designs in the construction of Monticello, his home in nearby Charlottesville.
The current owner of this classical Italian villa had it built from scratch for his family about two years ago. He listed the property less than a month ago, and despite the $7.775 million price tag, broker Phillip Thomas says interest is high. He's already received a bid, but no sale has been finalized.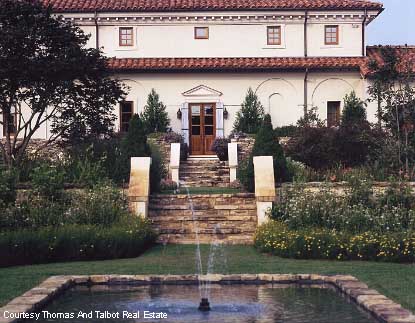 The house was designed by the owner, who is a contractor, and he took several trips to Italy to buy and import many of the materials used. The property itself includes a slew of Old World features such as antique French limestone floors and 16th-century wainscoting. A private office in the west wing has a painting of an ancient world map that was handpainted by Smithsonian artists. The home also has a secluded stone barn and a pool that's about 330 to 400 yards from the main house, which overlooks the Little River. (Unlike the primary residence, the pool is chic and somewhat modern.)

Phillip Thomas of Thomas And Talbot Real Estate has the listing.

Forbes Fact

Middleburg, Va., was first established by Revolutionary War Lt. Col. Levin Powell. He purchased the land for $2.50 an acre in 1787 from Joseph Chinn, who was a first cousin to George Washington. If that figure is loosely adjusted for inflation, it comes out to roughly $25 an acre in 2001 dollars. Not a bad deal at all.

http://www.forbes.com/2002/11/18/cx_bs_1118how.html

Blue Ridge Hunt Country Magazine Special Edition 2004.

A CONVERSATION ABOUT HUNT COUNTRY CONSERVATION

"In over 30 years of business, I am not aware of any property ever sold for development by Thomas and Talbot," says Phillip Thomas, owner of the venerable brokerage, Thomas and Talbot Real Estate in Middleburg. "In fact, a former agent once brought in a ratified contract from a developer who wanted to break up a farm into building lots. The prospective seller and I put up $50,000 and bought the contract to get control of the development threat. We then sold the property to someone who wanted to keep it as a farm."
The brokerage started by Phillip Thomas and John Talbot, a former associate, in 1967 states its philosophy on the back of the annual steeplechase calendar: 'It is our firm's continued philosophy to help maintain the open space and agricultural integrity of this beautiful and unique area....It is this firm's continued desire to obtain qualified purchasers that have the appreciation and the desire to maintain our countryside as it is."
"My father was a Master of Fox Hounds in the '20s and '30s," Phillip says. "So, I was raised in a foxhunting environment. In the past, our area had a group of wealthy people who were the mainstays of the Piedmont, Middleburg, and Orange County hunts. Foxhunting was the core of the local social life, with the meets, the hunt breakfasts, and hunt balls. The first foxhunters in the area were farmers, then well-to-do buyers came from the north to acquire hunting horses, they fell in love with the beauty here and began to buy properties. Even in those days, foxhunting was being closed out in the more populated areas of New York - there were hunts in Orange County, Westchester County, and Long Island – many of the northern gentry bought properties here so they could continue an English country way of life. They first visited our area by commuting, sometimes by train with their horses, then they bought more farms, as they settled here they persuaded their friends to do the same."
"The foxhunter/landowner was the forerunner of the environmental groups and conservation buyers of today. It was vital to the foxhunting community to maintain unspoiled large tracts of land for foxhunting. Families such as the Phipps, the Warburgs, Harrimans, the Guests, and the like, had the wherewithal to protect and promote the hunt country."
"That has changed a bit. If you were here in the '40s, '50s and the '60s, you were probably a foxhunter. Now people are coming in who may not hunt or even have horses, but they are interested in conservation. They like the Middleburg-Upperville region and want to keep it the way it is. I share their viewpoint even thought I have never foxhunted myself. But I have a great appreciation for what it is all about and for what the early foxhunters did to hold this area together."
"The Foxhunting requirements have changed, too. Fifty years ago you had to have at least a couple hundred acres to hunt. Now, more foxhunters have, say, only fifty acres. What we are seeing is that a lot of foxhunters are not as wealthy as the original hunters and we are now more populated."
"In my opinion our future lies in easements. People can establish scenic easements by working with the Virginia Outdoors Foundation, a quasi-official entity created by the Virginia Assembly to accept donations of essentially zoning density. For example, say a landowner has 10-acre zoning applied to his hundred acres. That would allow for 10 divisions. He can change it permanently by limiting division to, say, two 50-acre parcels, by virtue of easements. He in essence has given away his future development profits. For that, the landowner gets a substantial charitable deduction and other tax benefits for his effort. Figure what ten 10-acre parcels are worth versus two 50-acre tracts and the difference in value is his gift value. We actively present these concepts to clients who we work with."
Phillip not only believes in these concepts, he has taken action. He inherited the 1250-acre Ovoka Farm in 1989 just before the real estate market suffered a major slow down. He held on to the farm for many years, turning away offers from resort speculators and other developers, and finally worked out a plan with the Piedmont Environmental Council to keep the farm - and its outstanding views - intact.
"I basically sold the farm for two-thirds of its market value to the Piedmont Environmental Council and gifted the remaining value," Phillip explains. "This approach worked for me." It also earned him the Land Conservation Award for 2001 from the Piedmont Environmental Council.
Phillip is realistic about what the future will bring. "The only answer is birth control," he jokes. "There are just more and more people all the time. Look at what has happened in just my lifetime. I can remember when we lived in Fairfax County, I could ride my horse all over what is now Reston, and Upperville was like the other side of the moon. When I first went into the real estate business in 1962, real estate around here was mainly generated by foxhunters trading properties. Someone would buy in one hunt, then visit and cap with another hunt. If he decided he liked that territory better, he'd move there. "Good for real estate!" Now, there are lots of new people coming in. That makes it interesting, of course. I have represented everyone, from titans of industry to ... football Team owners to DOT-COM-ERS (he laughs) and made many wonderful friends."
Phillip lives in the village of Middleburg in a remarkable house he has filled with collectibles. His office is filled with them, too, from early maps and etchings ( such as a map drawn by Thomas Jefferson's father, Peter), and a tiny etching from c. 1694, one of a set of geographic playing cards depicting Virginia). All are attractively hung with other treasures stacked together because he's running out of room. But he relishes every item with the same passion with which he enjoys his life in the Virginia hunt country. And, of course, this man is himself one of hunt country's treasures.

<!- end content -->